Company Motto (Core Values)
Our company motto was established by founder Rintaro Omura, when Fuji Kogyo began full-scale operations in 1946.
It embodies our wish to create a company where all employees can work with peace of mind and lead happy lives, based on discipline and order.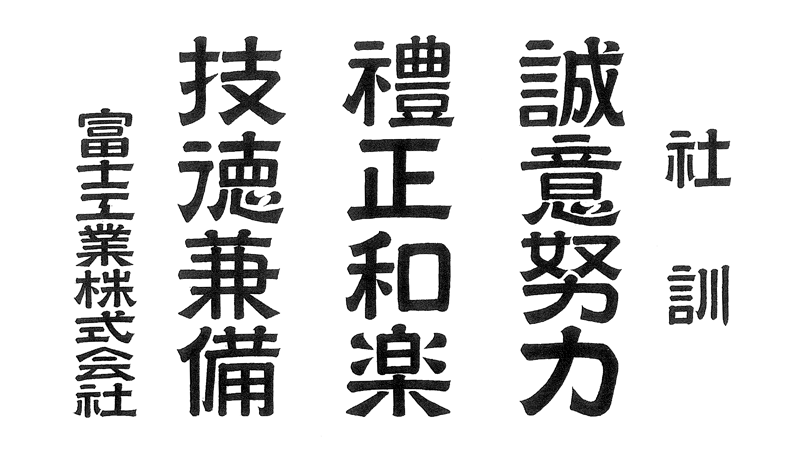 誠意努力 – SEII DORYOKU
Make steady, honest, and sincere efforts to improve yourself, and always remember to be considerate of others.
禮正和楽 – REISEI WARAKU
In order to live an enjoyable and peaceful life, you must always remember to respect others, be polite, groom yourself properly so as not to cause discomfort to others, and make efforts to improve your own character. To do so, it is important to make and follow your own small rules every day, such as making a voluntary effort to greet people, and observing rules and manners.
技徳兼備 – GITOKU KEMBI
Always make an effort to improve your skills in any job you do. But even if you have a high level of skill, if you do not also have morals, then you will not be able to help people and contribute to society. Even with a very high level of technical skill, a person who lacks morals causes a great deal of trouble to those around them, and to society. Fuji Kogyo is a company that values the character of people as well as technology.